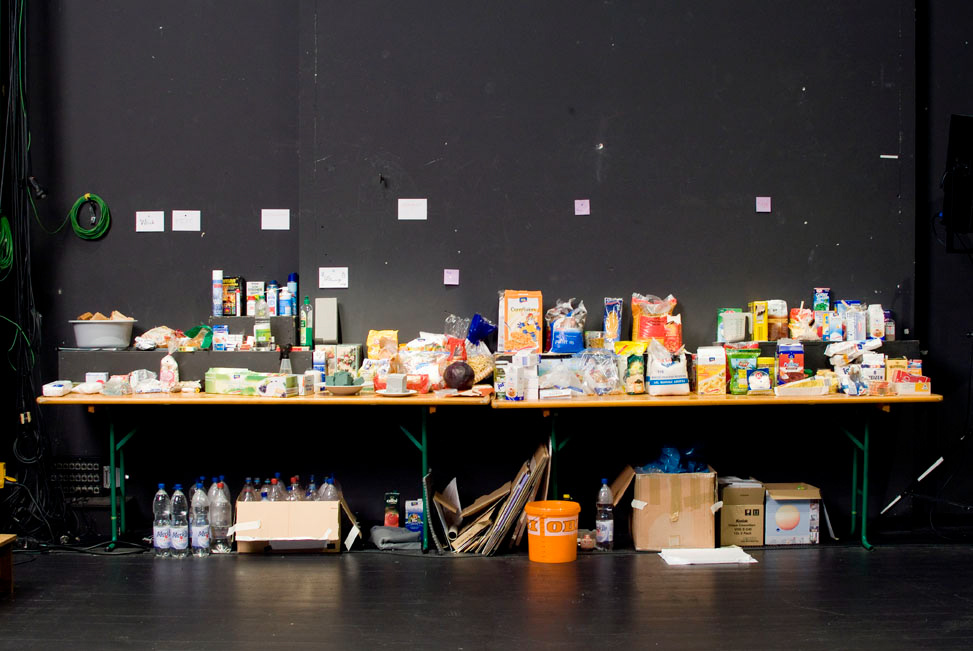 Bauen nach Katastrophen / Building After Catastrophes (2009)

a performance for adults by children

a collaboration between Hanna Sybille Müller and Eva Meyer-Keller
Together with the children we built a series of catastrophe models with simple everyday objects, e.g. matches, sugar cubes, salt, water, leaves, hairdryer, paper. Facts and fictions about catastrophes blend together. Already at the beginning of the model building stage the children know that the models are only finished when they are flooded, burnt or fallen apart. We would like to make the children aware that small delicate actions can have a big impact.

All the models are quite small: they fit for example in a shoebox or an aquarium. A video camera captures the small details of the model and transmits it to TVs for the spectators to see. The children work in teams to build the models: one who is responsible for light, one for water, one for wind, one for the camera. The roles will change from one model to the next. Each part is developed and then practised as a step-by-step choreography.

Idea & Concept: Eva Meyer-Keller, Hanna Sybille Müller
With: Gil, Emma, Zebra, Leo, Timon, Gideon and Lea
Sound: Jeff McGrory
Light: Florian Bach
Funded by the Hauptstadtkulturfonds Berlin, Germany
Co-Production: Lofoten International Arts Festival Norway.
Thanks to Lucas Fester, Dirk Notz, Rhonda Repotente, Katja Rothe, Sharon Smith, Sophie Watzlawick, Mehdi Toutain Lopez, Bruno Pocheron and the Internationale Sommerfestival Kampnagel Hamburg (D) Performing Arts Festival NATRURA DÈI TEATRI Parma, (I) and the Symposium Neue Theaterformen mit Kindern und Jugendlichen of the Hessischen Theaterakademie, (D)


Venues
Parma (IT), Hamburg (DE), Lofoten (NO), Berlin (DE)
Sounds Like Catastrophes (2010) - a performance for adults by children
The performance Sounds Like Catastrophes is a short version of Building After Catastrophes. In counterpart to the production of images of catastrophe, here the children work with everyday objects to produce the sounds of catastrophes. Working as noisemakers, they design sound sequences, set them into musical scores and perform them as a group. The discussions and conversations that happen during the workshop simultaneously arrange how they work together as well as providing the text of the performance. the audience hears narratives, fantasies, stories and declarations that swing between anarchy and fear.
Idea & Concept: Eva Meyer-Keller, Hanna Sybille Müller
Sound: Rico Repotente
and 5 – 7 children
Venues
Berlin (DE), San Sebastian (SP), Riga (LV), Durban (ZA), Tampere (FI), São Paulo (BR), Birmingham (UK) and Bremen (DE, Schwankhalle, 12. & 13. September 2015)